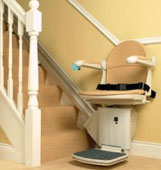 Oakland Stair Lifts
If you're considering getting a stair lift service either for a loved one, a friend or for yourself, Oakland stair lifts providers can help you out. Yes, they can actually help you not just with stair lift installation but in funding your stair lift service as well.

Stair lift installation and maintenance entails a huge financial investment. Just like any mechanical device, stair lift maintenance is required for its upkeep. Most Oakland stair lifts suppliers provide repair and maintenance and have developed easy-to-manage financing options. Not only that, but help is also available from other sources.


Funding a Stair Lift Service in Oakland


A number of federal agencies give grants or loan programs to the elderly to help pay for the cost of re-housing so they can stay in their homes instead. State programs for disabled people are also available which offer grants to help finance the acquisition of assistive technology devices. Check with the following agencies in Oakland on how to avail financial grants to fund your stair lift purchase.

• Alameda County Area Agency on Aging – Provides loan grants to help finance home modifications on senior homes. Call them at (510) 577-1900.

• Community and Economic Development Agency – They have a program called Community Development Block Grant (CDBG) which aims to help finance home rehabilitation. Give them a call at (510) 238-7162.

• Disability Rights California – They offer loan grants to help you pay the cost of stair lift installation. Contact them at (510) 267-1200.

• California Foundation for Independent Living Centers, Inc – Presents financial assistance for the acquisition of assistive devices. You may contact them at (916) 325-1690.

Aside from these, part of the cost of stair lift installation can also be deducted from your tax.


Choosing a Stair Lift Company in Oakland


A good Oakland stair lifts supplier is the one that uses nothing but durable stair lifts from reputable manufacturers and takes the responsibility of installing your stair lift at home. They will help you determine the right stair lift system that meets your needs and budget. Lastly, they must employ friendly representatives to address all your concerns should the need arise.


Where to Buy Stair Lifts in Oakland


You will find numerous Oakland stair lifts suppliers serving the residents of Oakland, California. Their services include installation and maintenance of stair lifts.

• Accessible Home Lift Company – a stair lift specialist located in Alameda, CA. They provide comprehensive and personalized stair lift services to their customers, from free in-home evaluation to sales, installation, repairs and maintenance. They also offer used stair lifts. Call them at (510) 521-9526 or 1-800-606-1115 (toll free).

• ACME Home Elevator – a premier Oakland stair lifts supplier of custom-made residential stair lifts, accessibility lifts and elevators. They are located at 4740 East 2nd Street, Suite 20, Benicia, CA with phone number (707) 748-4490 and toll free hotline 1-800-888-5267.

• Mobility 4U – authorized Acorn and Bruno stairlift dealer that sells, installs and repairs lifts. The company also offers stair lift rental. Located at 4636 Schlosser Court, Castro Valley, CA, with telephone number (510) 581-6759.

• Rollin' Along – a family-owned business that provides personalized stair lift service. Scooter lifts, platform lifts, ramps, patient transfer lifts are some other products they carry. You may visit their office at 10700 Beverly Avenue, Oakland, CA. Or call them at (510) 215-0625 and toll free hotline 1-877-777-0625.


↑ Top