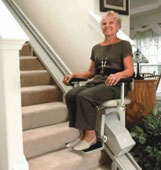 Houston Stair Lifts
Are you searching for the right stair lift for your home in Houston? Houston stair lifts companies have a lot in store for you.

Traversing the stairs used to be a real challenge and even dangerous for the elderly and handicapped. Thanks to stair lifts, these people can now enjoy greater freedom to move around the house and even manage the stairs on their own without the fear of getting an injurious fall. Houston stair lifts are welcome additions to most of the senior homes and other public edifices around the Houston area as well.

You need to do your homework first to help you choose the right stair lift that will meet your specific needs or that of your loved one. Always remember that the cost of the Houston stair lifts may vary based on the home's staircase type, size, height, features and functionality and brand names.


Where can I get Stair Lifts in Houston?


There are plenty of reputable stair lift suppliers in Houston. Let us consider some of them.

• Stairlift Store –Located at 18030 Nassau Bay Dr Houston, Texas 77058, they sell, install as well as repair stair lifts. You may contact them at (281) 480-9876 and at toll free number 1-877-793-4196; or email them at info@advanced-lifts.com.

• Mobility Plus –Situated at 1789 Upland Dr Houston, Texas 77043. They can be reached by phone at (713) 468-4683, or through their toll free hotline number at 1-888-558-4683, or email them at info@mobilityplustx.com.

• RampNow of Houston – Aside from selling and installing stair lifts, they also provide stair lift rentals. They are located at 3227 Flower Reef Circle, League City, Texas 77573 with contact number (281) 538-1215. You can also email them at Aaron@RampNOW.com.

• Marchal/Stevenson Elevator Co., Inc – The company services and repairs stair lifts. Their office can be found at 11050 West Little York, Bldg. E Houston, Texas 77041. You may call their local number at (713) 961-1940 or their toll free number at 1-800-698-1940.


Funding for Stair Lifts in Houston


When you've already decided to have stair lift installed in your Houston home, the next question that concerns you is how to finance them. As functional as a stair lift could be, you should know that it also entails a huge investment. Straight stair lifts will cost you between $2,000 and $4,000, while a curved lift runs between $8,000 and $15,000. If you can't afford brand new stair lifts, you can opt for used, reconditioned stair lifts, or go for stair lift rentals.

In addition, you can check the Area Agency on Aging in Houston through their contact number (832) 393-4301 to qualify for grants to help you finance stair lift installation. Moreover, the Department of Housing and Urban Development may also provide grants for home upgrades including stair lift installation under the Community Development Block Grant Program. Check with them at (713)868-8305. Furthermore, you can discuss a particular funding option that works best in your situation with your Houston stair lifts provider. Surely, they will be happy to help you out.

With the right Houston stair lifts supplier, you or your loved one will get to live a more normal life even with limited mobility.


↑ Top