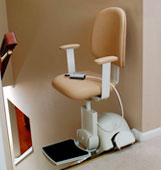 Sacramento Stair Lifts
Are you looking for stair lift companies in Sacramento, California? There are companies servicing within the metro who not only sell but install and service stair lifts. Sacramento stair lifts suppliers carry the big names in stair lift products. Let's locate some of them.


Where to Buy Stair Lifts in Sacramento


• Nationwide Lifts of California – they specialize in service and maintenance of residential and commercial elevators, wheelchair lifts, dumbwaiters and stair lifts. You can find them at 6200 Enterprise Drive Diamond Springs, CA. Contact them over (530) 626- 8043 or through their toll free hotline 1-888-323-8755 or email them at info@nwlifts.com.

• Kiwi Stair, Inc – they install and service stair lifts as well as remodel and renovate residential stair rail construction both exterior and interior. Their office is located at 11270 Pyrites Way, Gold River, CA, with contact number (916) 635-1619.

• Ability Center – this Sacramento stair lifts supplier offers the most prevailing and finest brand of mobility products for stair lifts, handicap accessible vans, wheelchair accessible vans and other mobility equipments. They also service and repair these products. You can visit them at 6550 Freeport Blvd # A, Sacramento, CA, with contact number (916) 392-1196; toll free number 1-866-405-6806.

• Mcllwain Mobility Service – a family-owned business located at 8451 Friar Tuck Way, Fair Oaks, CA. They provide quality equipment and services of mobility products including stair lifts. You can reach them over (916) 248-4029 or via their toll free number 1-866-428-1897. You may also email them at info@mcilwainmobility.com.


Cost of Stair Lift Installation in Sacramento


When you decide to get a stair lift service to help you or a loved one manage the stairways safely, the very first thing you would want to know is the cost of the stair lift. The price of stair lift installation primary depends on several factors such as the type and size of stair lift that will fit your stairwell and how it is powered. For instance, straight stair lifts will cost you $2,000 to $4,000, while curved lifts are more expensive which could cost up to $15,000. Take note that these figures only cover the installation, usually with one year warranty. Also, DC or battery-powered units may suit you best if your area constantly experiences power cuts, and these are more expensive than AC units. Sacramento stair lifts suppliers can help you choose the lift that meets your needs and budget.


Funding a Stair Lift Service in Sacramento


If your resources are not enough to afford stair lift installation, don't despair. Sacramento stair lifts suppliers can help you with customized financing options that suit your budget. In addition, you can search for state programs which help pay for home rehabilitation and assistive technology purchase. You may contact the Sacramento Housing and Redevelopment Agency to qualify for Community Development Block Grant at (916) 440-1357. Inquire from Area 4 Agency on Aging as well, since they help finance home upgrades. Call them at (916) 486-1876. You can also contact California Assistive Technology Network, which offers loan programs for acquisition of assistive technology devices, at their toll free hotline 1-800-2699.

Stay in your Sacramento home and gain more independence by installing the right stair lift system from any of the reputable Sacramento stair lifts suppliers.


↑ Top