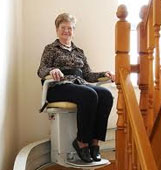 Atlanta Stair Lifts
Physically challenged individuals find it really taxing to climb the stairs. This is where stair lifts come in and they have even become a very practical addition to many Atlanta homes. Whether you're shopping for Atlanta stair lifts for yourself or for your loved one, this article hopes to help you out.

Know that Atlanta stair lifts are made to suit any type of stairwells and several things must be considered to ensure that you get the one that meets your needs, and your stair lift provider in Atlanta can help you pick the right stair lift.


Arranging for a Stair Lift Service in Atlanta


Booking your stair lift service in Atlanta is very simple. You just have to contact an Atlanta stair lifts supplier near you for a quotation. A company representative will come to your home to assess your specific stair lift needs and give you a price quotation. A deposit may be required to confirm your booking and they will schedule a stair lift installation date. It is best to choose the company that installs and repairs the stair lifts they sell.


Best Places to Buy Stair Lifts in Atlanta


Reputable Atlanta stair lifts suppliers can be found all over Atlanta and nearby cities. Here are some of them.

• Atlanta Stairlifts – they provide full stair lift service, with office at 1760 DeFoor Avenue, Atlanta, GA. You may call them over (770) 461-4252 or email them at atlantastairlifts@gmail.com.

• Blue Moose Elevators, Inc. – premier supplier and installer of residential and commercial mobility equipments; located at 191 Peachtree St. NE Ste. 3300 Atlanta, GA. You can contact them over (706) 276-6673 / (770) 891-4442 / toll free hotline 1-866-797-5438 or email them at info@BlueMooseElevators.com.

• Southeastern Stairlift Company – a stair lift specialist with address at 3788 Churchill Dr SW Marietta, GA. You can reach them over (678) 500-5436 or email them at Southeasternstairlift@hotmail.com.

• Mobility Center of Georgia – they provide and service stair lifts; located at 3304 Highway 78 W, Snellville, GA, with contact number (770) 833-1411 and email address Prestonproducts@aol.com.

• Action PAK'D Stairlifts – offers stair lift service and maintenance, located in Hiram, GA. You can call them over (678) 372-2755 or their toll free hotline 1-888-333-1270 or email them at request@actionstairlifts.com.


Funding a Stair Lift Service in Atlanta


A stair lift service requires a huge investment. It's a good thing that there are ways to help you fund a stair lift service. First and foremost, you can discuss with your Atlanta stair lifts provider about financing options to help you pay for a stair lift service. Also, you can deduct part of the cost of your stair lift purchase from your tax. And lastly, you can apply for federal programs to assist in stair lift funding. You may contact the Office of Grants Management in Atlanta for Community Development Block Grant at (404) 330-6112; Atlanta Regional Commission Area Agency on Aging at (404) 463-3333 / toll free hotline 1-800-676-2433 / email: aginginfo@atlantaregional.com; and Tools for Life – Georgia's Assistive Technology Act Program at 1-800-497-8665 or email them at info@gatfl.org.

Now, you can move around your multi-level Atlanta home with the help of a stair lift.


↑ Top