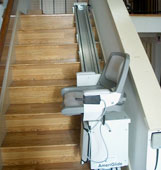 Colorado Springs Stair Lifts
Shopping for a stair lift in Colorado Springs? Well then, you will find lots of Colorado Springs stair lifts providers across the region and neighboring cities for your stair lift needs.

Picking a stair lift for your home is similar to selecting a piece of furniture; it is a very personal matter. In order to get the right stair lift for you or for a loved with mobility problem, Colorado Springs stair lifts suppliers offer free home evaluation conducted by their qualified consultants to ensure that only the suitable lift for your needs is installed.

You might be wondering how much it will cost you to have a stair lift installed into your home. Several factors affect the cost of a stair lift system such as the type of staircase, the device's features and the way it is powered. Straight lifts will cost you no greater than $4,000, while curved lifts are between $8,000 and $15,000. If you don't have enough money to pay for it, help available.


Funding a Stair Lift Purchase in Colorado Springs


First and foremost, Colorado Springs stair lifts suppliers are aware that only a few can actually afford a stair lift installation. As a result, they offer financing options such as easy to manage payment plans so that stair lift installation can fit every budget. In addition, some dealers may also sell used and refurbished stair lifts which are more affordable than brand new lifts. Moreover, you can also seek help from the federal government. Get in touch with the Department of Community Development in Colorado Springs at (719) 385-5336 and inquire if you can qualify for CDBG. You can also call the Pikes Peak Area Agency on Aging at (719) 471-2096 as they provide grants for home modifications. You can also contact the Assistive Technology Program of Colorado at (303) 315-1280 which has loan programs to help finance the purchase of assistive technology devices.


Where to Buy Colorado Springs Stair Lifts


There are plenty of dependable Colorado Springs stair lifts suppliers whose services range from selling and installation to repair and maintenance. Check out some of them.

• Morning Star Elevator – they service and repair stair lifts and other mobility products such as vertical platform lifts, dumbwaiters, wheelchair lifts, car lifts as well as commercial and residential elevators. They are located at 11641 Ridgeline Drive, Suite 100, Colorado Springs, CO with contact number (719) 635-7960.

• Ascension Lift & Elevator Company – the company specializes in custom-made stair lifts, dumbwaiters, vertical platform lifts and residential elevators. Their mailing address is PO Box 62207, Colorado Springs, CO, with office phone number (719) 264-9945 and email address contactus@ascensionlift.com.

• Stair Lift Rentals, Inc. – stair lift specialists that sell and service stair lifts. They offer stair lift rentals and lease buy-out plan. You may visit their office at 2915 Draco Circle, Colorado Springs, CO, or reach them over (719) 428-5438.

• Mountain West StairLifts – local supplier of Stannah Stairlifts in Colorado with office at 1635 Foxtrail Drive, Loveland, CO. Contact them at (720) 496-0101 or email them at info@stairliftscolorado.com.

• Colorado Custom Lift & Elevators, Inc – they install and service both commercial and residential stair lifts. Other products they provide include dumbwaiters, freight lifts, wheelchair platform lifts and elevators. Visit their office at 7205 Grand Prairie Drive, Colorado Springs, CO, with phone number (719) 622-9000.


↑ Top