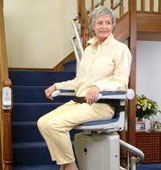 Mesa Stair Lifts
Are you looking for stair lifts in Mesa, Arizona? You will find numerous stair lift companies that can install service and repair stair lifts. And Mesa stair lifts providers have a wide range of stair lift models to suit your specific needs.

As much as possible, you would want to be well-versed about Mesa stair lifts. This is because it is a priced investment for a loved one with mobility problem to give him or her some measure of freedom in their beloved home. Besides, it is the most viable option than moving into nursing a home or single-storey house. Therefore, you must ensure that you choose the right stair lift system for your home. How are you going to do that? Contact reputable stair lift companies servicing the residents of Mesa.


Best Places to Buy Stair Lifts in Mesa


• Ameriglide Phoenix – this Mesa stair lifts supplier is famed as the leading stair lifts provider in the Phoenix metro area. They have expanded their services to the residents of Mesa, Chandler, Scottsdale and Peoria, Arizona. Other mobility products they offer include vertical platform lifts, bath lifts, lift chairs and vehicle lifts. You may visit their office at 4838 E Baseline Road # 102, Mesa, AZ, or call their toll free hotline at 1-855-265-5694.

• Serene Mobility and Lifts – provides stair lift service and maintenance; located at 22505 N. 19th Ave Suite 102, Phoenix, AZ. They can be reached by phone over (623) 580-8500 or through their toll free number 1-877-604-4900; or you may email them at jeff@serenemobility.com. Some other products they carry include vehicle and patient lifts, ramps and walkers, transport chairs, wheelchairs, power chairs and scooters, as well as bathroom safety equipment.

• Ability Center – they provide their customers with a wide variety of mobility equipments, from stair lifts to handicapped accessible vans. They also employ qualified technicians to service and maintain your mobility equipments. For your mobility needs, you may visit their office at 23606 N. 19th Avenue, Phoenix, AZ, or contact them over their toll free hotline 1-866-405-6806 or their local phone number (623) 879-0800.

• Abbey Home Elevator of Arizona – they specialize in the service and maintenance of stair lifts and elevators, with office at 301 West Deer Valley Road, Phoenix, AZ. Give them a call at (602) 252-3866 or through 1-866-558-2229 (toll free).

• Active Mobility – offers a wide range of mobility solutions including stair lifts service and repair; with address at 1316 S. Gilbert Rd. Mesa, AZ. Call them for free home evaluation over (480) 539-2939/ toll free number 1-888-246-2717 or email them at admin@activemobility.com.

• Southwest Mobility Inc – trusted provider of mobility equipments including ramps, scooters, wheelchairs, lift chairs and stair lifts. They can be found at 4406 E Main St., Suite 110, Mesa, AZ, with contact number 1-877-817-4642.


Financing a Stair Lift Purchase in Mesa


A stair lift service is quite expensive. However, there are several ways to help you finance Mesa stair lifts costs. Call these federal agencies in Mesa to avail loan grants for your stair lift purchase.

• Department of Community Revitalization at (480) 644-2168
• Area Agency on Aging at (602) 264-2255
• Arizona Technology Access Program at (602) 728-9532.


↑ Top