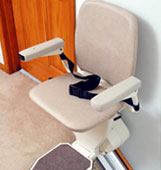 Phoenix Stair Lifts
Whether you or a loved one has troubles in going up and down the stairway, a stair lift is the finest solution to this problem and Phoenix stair lifts suppliers can provide you with whatever you require out of a stair lift.

The stairs is one of the most dangerous parts of the house for the disabled and elderly people. Stair lifts eliminate much of the risk associated with traversing the stairs and provides substantial amount of independence while moving around the house. Shopping for Phoenix stair lifts is quite overwhelming if you don't have prior knowledge about stair lifts. Besides, stair lift installation is quite expensive which poses another problem if you don't have sufficient funds to finance the cost. Thus, you need to do some homework first before calling stair lifts provider in Phoenix.


Financing a Stair Lift Service in Phoenix


Stair lift installation can be considered as a home upgrade, hence, check the Department of Housing in Arizona for Community Development Block Grant which you can qualify for to receive grant to help you with your stair lift installation at home. You may call them at (602) 534-2825.

You might also check with the local Area Agency on Aging in Phoenix at (602) 264-225 or their toll free number at 1-888-783-7500 for programs or loan grants to help you pay for the stair lift and stair lift service.

Moreover, Arizona is implementing a state-wide program called Arizona Technology Access Program which is financed by the Education Department as well as Rehabilitation Services Administration to help families with disabled members obtain assistive technology devices. In fact, they have a financial program called Arizona Loans for Assistive Technology (AzLAT) which grants loans to buy assistive technology devices. For further details, call them at (602) 728-9532 or through their toll free number (800) 477-9921.

Aside from state programs, check your health insurance policy with regards to financing stair lift installations because some policies include funding medical equipment. And lastly, your Phoenix stair lifts supplier may help you figure out payment plans to make acquiring a stair lift easier for you.


Tips in Choosing a Stair Lift Company in Phoenix


Choose the supplier that has the experience and proficiency in stair lift installation with trained sales and service representatives to answer your inquires, one that carries a wide selection of stair lift models and has the integrity in serving their clients. Also, a good Phoenix stair lifts supplier must provide free stair lift price quotation.


Best Places to Buy Stair Lifts in Phoenix


• Serene Mobility & Lifts located at 22505 N. 19th Ave., Suite 102 Phoenix, AZ 85027 with contact number (623) 580-8500 and toll free number 1-877-604-4900.

• Celtic Elevator, LLC situated in Anthem, Arizona with phone numbers (602) 430-7810 / (602) 329-2573 or you may email them at celticelevator@gmail.com.

• Abbey Home Elevator of Arizona located at 301 West Deer Valley Road, Phoenix, AZ 85027 with telephone number (623) 582-8990 and toll free number 1-800-842-2239.

• AmeriGlide Phoenix with address at 4838 E Baseline Road #102, Mesa, AZ 85206. Contact them at (855) 265-5693.

• StairBuddy with office at Phoenix, Scottsdale, AZ 85260. You can call them at (602) 653-1378 or email them at martind@stairbuddy.com.

The right Phoenix stair lifts company can help you overcome the barriers that impede you from moving around in your home.


↑ Top