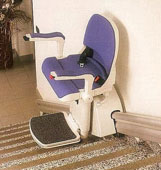 Detroit Stair Lifts
For some people, especially those who are old, handicapped or disabled, moving up and down the stairs can be really tough and might need some assistance which is a very hard thing to do. The only solution for these problems is installing a stair lift device at the comfort of your own home. Star lifts are available anywhere for purchase and even for rent. If you are living in Detroit, then no worries as many stair lift companies are available around the Detroit area. Some other lifts available are for bathrooms and for handicap vans. Detroit stair lifts contractors offer a wide variety of stair lift services, from battery to electronic-powered devices.


Which Stair Lift to Buy


Before going on stair Detroit lifts hunting, you should first decide which type of stair lift best fits your needs or whether you are going to use it long-term or short-term. Next is determining the type of stairway you have, whether it is straight or curved. Though it is much easier to shop for straight stair lifts, many companies also offer curved stairs installation which may cost a bit higher compared to straight stairs. Third, consider the cost and how much you're willing to spend. Naturally, curved stair lifts cost higher compared to straight lifts. If you can't afford to purchase one, you can choose from other options like renting or buying pre-owned stair lifts.


Where to Buy Detroit Stair Lifts


There are so many Detroit stair lifts companies serving the market which makes it harder for some to decide which to choose and where to buy. After deciding on the type of equipment, the next thing to do is select the company from which you're going to buy the device. Though they can easily be found on the internet it is still best to go check them out for yourself.

You should consider how long they have been into business, since the longer they are in the service, the broader their knowledge is about stair lifts. Visit the office, check out the equipments and inquire about their services. If you're lucky you might find dealers that offer aluminum or steel type stair lifts. Here is a list of some companies available around or near Detroit:

• Acton Rental & Sales CO
18401 Van Dyke St, Detroit, MI 48234
(313) 891-6500
Sells, rent and lease stair lift services

• Midwest Health Services
15800 W McNichols Rd Ste 212 Detroit, MI 48235
Phone: (313) 272-9281
Sells stair lifts products and services

• Wright & Filippis
201 St. Antoine Detroit, MI 48201
Phone: (313) 832-5020
Fax: (313) 832-6157
Sells stair lift products and services

• Handi Cap Solutions
18348 Fitzpatrick St, Detroit, MI 48228
(313) 838-9307


Arranging Detroit Stair Lifts Service


There are companies that assist individuals in finding various stair lifts that best fit their stairways. You can also directly contact the companies mentioned above and ask if they can conduct assessment in your home. If they don't offer free assessment make sure that you can provide the right measurements of your staircase, for once order is placed it would be impossible to return it.

Resource funding for Detroit Stair Lifts would be hard to find for this is not usually covered by Medicare Insurance, but other options are available including getting a loan from organizations like Michigan Assistive Technology Loan Fund.


↑ Top