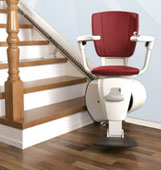 Jacksonville Stair Lifts
If you are considering getting a stair lift system installed into your Jacksonville home, then you should seek the expertise of Jacksonville stair lifts suppliers in getting the right stair lift for your home.

Stair lift installation involves a hefty sum as several factors affect the cost of stair lift installation. No need to worry, though, as Jacksonville stair lifts providers can help you determine the right stair lift that suits your budget. They usually conduct free home assessment to figure out your stair lift needs and provide you with a price quotation based on your specific requirements. Confirming your booking typically requires paying down payment and then your stair lift will be installed afterwards.


Where to Find Stair Lift Companies in Jacksonville


Jacksonville stair lifts companies offer a wide range of stair lift services to the residents of Jacksonville. They can help you in the installation, repair and maintenance of the lift.

• Duramed Mobility of Florida – they supply and install a wide array of mobility products including stair lifts. Not only that, service and maintenance of these products are also part of their services. You may visit them at 8110 Cypress Plaza Dr # 308, Jacksonville, FL with telephone number (904) 296-9339.

• Mobility Express – the company carries a full line of accessibility and mobility equipments which include stair lifts, scooters, ramps, power wheelchairs, scooter lifts, power chair, lift chairs, walkers and manual wheelchairs. They also do repair and maintenance. They are located at 2141 Loch Rane Blvd # 116, Orange Park, FL. You can reach them through (904) 272-3022 / toll free number 1-800-815-1211 or email them at cmsop@bellsouth.net.

• The Scooter Store – premier supplier and installer of mobility products like stair lifts, scooters, ramps, power chairs, lift chairs, vehicle lifts and so much more. Maintenance services are available too. Their office is at 2431 St. Johns Bluff Rd S, Ste. 113, Jacksonville, FL, with contact number (904) 641-5311.

• Mobility Outfitters – they provide solutions for all your mobility needs, from stair lifts, full-size van lifts, scooters, wheelchairs lifts, transfer seats, driving aids, porch lifts, ramps and mini-van conversions. They are located at 3350 Aspen Forest Drive, Middleburg, FL with contact number (904) 589-7752 and toll free hotline 1-800-761-4401.


How to Finance Stair Lift Installation in Jacksonville


Installation and services of assistive technology equipments like stair lifts are quite expensive. Yet, there are ways to help you pay for Jacksonville stair lifts installation. Here are some of them.

• Check your health care insurance. Some private health care insurance will cover part of the cost of stair lift installation. Check with our insurance agent if this is available.

• Discuss easy-to-manage payment plans with your Jacksonville stair lifts supplier. Most companies offer financing options to help their clients manage the cost of their service easily. Ask whether they offer stair lift rentals or sell used and refurbished lifts as well.

• Look for loan grants or programs for home rehabilitations. You may call the ElderSource, Area Agency on Aging in Northeast Florida at (904) 391-6699, and Community Development Division at (904) 255-8200 to qualify for such program.

• Look for assistance technology programs. Contact the office of Florida Alliance for Assistive Services and Technology (FAAST) at (850) 487-3278 to apply for a device loan program which can help finance your stair lift purchase.


↑ Top