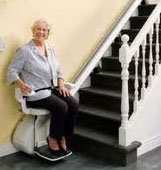 Oklahoma City Stair Lifts
If you or a family member is physically challenged, a residential stair lift system added into your Oklahoma home will enable you to move up and down the stairs more safely. There are plenty of Oklahoma City stair lifts providers to help you find the stair lift that suits your needs and budget.

Arranging a stair lift service is hardly challenging. In fact, your stair lift system can be installed even within the same day the home evaluation was conducted by your Oklahoma City stair lifts supplier. Most companies require initial payment before installing the stair lift into your home especially for curved stair lift system. But what if you don't have enough resources for a stair lift purchase? Are there ways to get a stair lift service at lower cost? Yes, there are. Find out how.


Ways to Fund a Stair Lift Service in Oklahoma City


These funding options have proven to be helpful in financing stair lift services.

• Discuss with your Oklahoma City stair lifts supplier about their payment options. Stair lift dealers basically offer financing options to buyers with limited resources. Used and reconditioned stair lifts are other affordable alternatives to have a stair lift at home. Inquire about these great deals with your preferred stair lift supplier.

• Call your private health insurance provider – some insurance policies will cover part of the cost of buying medical equipments including stair lifts. Ask if you can request for additional coverage in case they are not included.

• Hunt down state assistance technology programs – these programs are funded by the federal government to help the disabled and their families support the acquisition of assistive technology devices. You may contact New View Oklahoma Assistive Technology Center at (405) 286-9699 or email them at kplummer@newviewoklahoma.org for further details. You might also call Oklahoma ABLE Tech at (405) 744-9748 which also offers financial assistance and loan programs to help you finance the stair lift installation.

• Check out federal programs for home rehabilitations – you may contact the Community Development Division in Oklahoma City at (405) 297-2009 to apply for CDBG housing loan program to help you finance home upgrades like stair lift installation. You can also contact the Areawide Aging Agency in Oklahoma City at (405) 942-8500 which has programs or grants in financing home upgrades.


What are the Best Places to Buy Stair Lifts in Oklahoma City?


Here are some of the reputable Oklahoma City stair lifts suppliers ready to serve you.

• Electric Scooter Stores – they specialize in stair lift installation, service and rentals with office at 6601 North May Avenue, Oklahoma City, OK. You may contact them at (405) 858-0000 or through their toll free hotline 1-800-865-0046.

• Elevating Systems & Services – provides stair lift service and repair with address at 1905 S Harvard Dr, Oklahoma City, OK. You can reach them over (405) 381-3589.

• Space Solutions Inc. – sells, installs and repairs stair lifts; located at 13900 Deep Fork Point, Edmond, OK. Their contact number is (405) 396-8800.

• Family Stairlifts – offers stair lift service and maintenance with address at 4601 North May Avenue, Oklahoma City, OK. You can contact them over (405) 947-6162.

Call your nearest Oklahoma City stair lifts supplier and manage the stairway safely by installing a stair lift system.


↑ Top