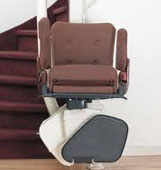 Memphis Stair Lifts
It can be really frustrating when you can't freely move around the different levels of your Memphis home. Thanks to the genius mind behind the creation of stair lifts. You can now freely move up and down the upper level of your house and Memphis stair lifts providers are willing to accommodate all your stair lift needs.


Before Calling Stair Lift Companies in Memphis


You ought to know that any type of staircase can be fitted with an appropriate stair lift mechanism. You only have to figure out beforehand the type and size of your staircase, as well as the physical capabilities of the user. It is also important to determine the power supply situation in your area so you can decide whether an AC or a DC (battery-operated lifts) unit works best for you. When you contact a Memphis stair lifts supplier, they will conduct home assessment to know your specific needs and install the most appropriate stair lift in your home.


What are the Best Places to Buy Stair Lifts in Memphis?


• UP-DOWN Stairlift Company – they provide and repair mobility devices including stair lifts, with office located in Memphis, TN. You can reach them over (301) 737-1018 or through their toll free number 1-800-426-1018; or email them at info@updownstairlifts.com.

• American Access Inc. – offering stair lift service and repair with address at 8380 Wolf Lake Dr 3 108, Bartlett, TN. You may contact them at (901) 386-1830 or their toll free number 1-888-790-9269.

• United Elevator Services – provides service and maintenance for stair lifts located. You may visit them at 2685 Barcrest Road, Memphis, TN; with phone number (901) 380-4537 or their toll free number 1-800-338-0064.

• Homelift – with office at 6280 Tranquil Drive Olive Branch, MS with contact number (901) 335-3014 and toll free hotline 1-877-643-6210. They supply and service Stannah stair lifts.


How to Finance Stair Lift Purchase or Service in Memphis


Funding is the main concern why some households put stair lift installation at the back seat. This is not surprising though as setting up a stair lift costs up to $4,000 for straight lifts and as high as $15,000 for curved ones. Memphis stair lifts suppliers have recognized this problem and most of them can help you develop payment plans for your stair lift installation. Also, the federal government has special programs for the aged and disabled individuals to help them purchase assistive technology devices like stair lifts. You may contact these offices to apply for grants or loans to help you install a stair lift at home:

• Aging Commission of the Mid-South at (901) 324-6333

• Tennessee Technology Access Program (TTAP) at (615) 313-4821

• Mid-South Access Center for Technology at (901) 678-1489 or email them at act@memphis.edu.

Moreover, stair lift installation is also considered as home modification therefore, you may check with the local Housing Authority of Memphis for Community Development Block Grant at (901) 576-736, as they help in financing home modifications.

When you're ready for a stair lift installation, simply call a Memphis stair lifts provider and they will conduct home assessment to ensure that your stair lift fits your needs. An excellent Memphis stair lifts supplier not only installs stair lifts but provides effective customer assistance and maintenance to ensure that your lift is in optimum working condition.


↑ Top