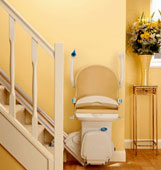 Fort Worth Stair Lifts
If climbing the stairs has become a real struggle, you might want to consider installing a stair lift in your Fort Worth home. At the initial thought, you may be reluctant to have a stair lift installed due to its cost. But Fort Worth stair lifts suppliers can help you figure out the best option for your needs and budget.

Let's admit it, a stair lift is a huge investment yet it is the most viable option than moving into a nursing home or a single-storey house. It has been used among several Fort Worth senior and private homes to help immobile people regain a certain extent of their freedom in accessing the upper level of their house without the fear of getting an injury from falling down the stairs. So, is it possible to get Fort Worth stair lifts without paying more? Yes it is possible. Read on.


How to get Affordable Stair Lifts in Fort Worth


Straight-type lifts cost between $2,000 and $4,000 while curved-type costs between $8,000 and $15,000. Let us consider some ways to get affordable Fort Worth stair lifts.

• Stair Lift Rentals – this is a viable option if you have limited but constant resources like seniors who highly depend on their monthly pensions. Monthly rental payments might be easier to handle and cheaper as it will only cost between $1,000 and $2,000 covering the installation, maintenance, power supply and removal charge while the monthly payment will range from $100 to $200.

• Reconditioned Stair Lifts – or second-hand stair lifts cost approximately $1,700. When you get them from trusted stair lift suppliers, you can be assured that they have been well-maintained.

• Used Stair Lifts – these normally cost around $1,500, and finding reputable brands like Acorn, Ameriglide and Stannah to make it a great deal.

Furthermore, you can seek help from the government of Fort Worth to help you finance stair lift installation as there are statewide programs to help seniors and disabled citizens purchase assistive technology equipment like stair lifts. You may call the Area Agency on Aging in Fort Worth at (817) 258-8000 and Texas Technology Access Program at (512) 232-0740 to qualify for any loan programs or grants to help you finance the stair lift installation. And most of all, your Fort Worth stair lifts provider may have financing options to meet your budget and needs.


Finding the Right Fort Worth Stair Lifts Supplier


• Lift Aids, Inc – they offer a wide variety of mobility solutions including stair lifts. You can find them at 1500 Westpark Way, Euless, TX with contact numbers (817) 835-0035; toll free number 1-800-351-5438; email: info@lift-aids.com.

• First Care Medical Equipment – they sell, install as well as service and repair stair lifts. They also offer stair lift rentals. You can visit them at 5470 E Loop 820 S # 110, Fort Worth, TX or call them at (817) 563-1618 or email them at info@1stcaremedical.com.

• AVR Elevators – sells and services stair lifts. Their office is located at 845 Avenue G, Arlington, TX. You may call them at (817) 652-2758 or their toll free number 1-888-AVR.2556 or send email to support@avrelevators.com.

• Medical Equipment Solutions – sells, installs and services stair lifts located at 6220 Southwest Boulevard, Fort Worth, TX with contact number (817) 509-1417.

• SM Medical & Mobility – provides stair lift service and maintenance with office at 100 W Rosedale St., Fort Worth, TX with telephone number (817) 338-4848.


↑ Top