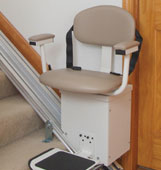 Austin Stair Lifts
Stair lifts are convenient ways to increase the mobility of the disabled and old people around their homes. There are plenty of companies around USA that sell electric stair lifts and residential home elevators. These companies also exist in the city of Austin. Austin stair lifts make it possible for Austin home owners gain full access on their respective homes. Check out these Austin stair lifts companies.

• Allstar Stairlift

Allstar Stairlift is an authorized installer of best quality stair lifts in the market. With extensive knowledge in the construction field, handling unusual stair details is not a problem. For more details visit their office at 15812 Belfin Dr. Austin,TX 78717 or contact this no. (512) 636-5806.

• Home Elevator of Texas

Home Elevator offers seat lift models with elegant design and superior craftsmanship. Lifts are equipped with touch buttons for easy control, seat that swivels 90 degrees for easy landing, and locks into place for safe standing. Stair lifts are available with different colors and fabrics. For more information call tel. no. 512-990-0631.

• Kerring Group

Kerring Group is a licensed medical equipment provider that serves central and southern Texas. They specialize in products and services on enhancing mobility, safety, comfort, and accessibility. They provide clients with great discounts, but for more information call these numbers 512-451-8853 or toll free no. 877-451-8852.

• Advanced Mobility Systems of Texas, Inc.

Advance Mobility is a member of the National Mobility Equipment Dealers Association. All its staff are certified and trained employees. And the company offers a wide variety of products and services that guarantee clients' total satisfaction. For more details just contact them at 512-295-3800 and toll free no. 1-866-211-8267.


Financing Options for Austin Stair Lifts


Prices of Austin stair lifts may vary depending on the kind, length and the type of staircase the home has. The prices can go as high as $15,000, specifically for long, curved staircases. To some, these lifts can be quite expensive, but thanks to Medicaid's Assistance Program for Home Medical Equipments, those who cannot afford can get their funding sources from them. But this program doesn't apply to non-members and to those who don't qualify. So these individuals can opt to get aid from other agencies or they can apply for loans.


Austin Stair Lift Services and other Considerations


With all the wide selection of different stair lift models and manufactures, shopping for a stair lift can be a daunting task. But home owners don't need to worry as stair lifts don't require major home renovations. And when you have decided to install, you can contact any of the companies mentioned above. Most of these companies will provide their own technicians who will be sent to your home to measure and assess your staircase and discuss you're various options.

These lifts are usually custom-made to fit each staircase, so the more complicated your staircase is, the more expensive the lift will be. If you find the cost to be very expensive you have another option to rent. Renting is the best method for individuals who won't need stair lift assistance for a long time. But for those who do, they must choose the most reputable Austin stair lifts company that is willing to offer the best deal at affordable price. And don't forget the warranty services too as you might need it later and it would definitely save you some bucks.


↑ Top