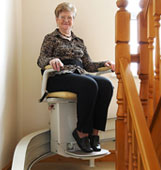 Seattle Stair Lifts
Traversing the stairs is dangerous when you have mobility problem. But installing a stair lift eliminates this problem and allows you to stay in your multi-level home. If you reside in Seattle, you need not worry as there are plenty of Seattle stair lifts suppliers who are ready to help you find the stair lift that suits you best.


Cost of Stair lifts


It is true that stair lift installation entails a huge investment. For instance, a straight lift will cost you between $2,000 and $4,000, while a curved lift is between $8,000 and $15,000. Do these figures hold you back from installing stair lifts in your home? It is a good thing then that Seattle stair lifts suppliers have identified this problem and they can help you develop a stair lift financing plan according to your resources and needs. Also, some suppliers sell used or reconditioned stair lifts at very affordable prices or offer stair lift rentals with low-cost monthly payments. Still, other funding options for stair lift service are available. Check these out.


Stair Lift Funding Options in Seattle


Aside from the financing plans offered by Seattle stair lifts suppliers, the federal government has programs to provide financial assistance for home modifications and acquisition of assistive technology devices like stair lift installation and service. You may call (206) 615-1717 of the Community Development Block Grant under the Department of Housing in Seattle which has loan and grant programs to fund home modifications and rehabilitation since stair lift installation can be considered as home modification. Also, contact the Aging & Disability Services in the Seattle Human Services Department at (206) 684-0660, or email them at aginginfo@seattle.gov. They may have loan programs to aid your stair lift purchase. In addition, you may check the Washington Assistive Technology Alliance over (206) 685-4181 or email them at uwat@u.washington.edu and the Washington Assistive Technology Foundation at (206) 328-5115 or email them at andrea@watf.org.


Choosing the right Stair Lift Supplier in Seattle


Although Seattle stair lifts suppliers are scattered all over the city, you must choose a reputable supplier to install your stair lift at home. Always remember that a good supplier is not just the one that offers the lowest price but provides the best stair lift device with excellent customer support service should the need arises.


Stair Lift Companies in Seattle


• American Elevator Corporation – offers stair lift installation and maintenance.
Address: 420 S 96th St. # 21, Seattle, WA; contact number: (206) 623-2400

• Adaptive Installations – premier stair lift service provider.
Address: 10010 14th Avenue Southwest, Seattle, WA; contact number: (206) 762-1969, toll free hotline 1-800-765-1969; email at info@adaptiveinstallations.com

• Primarius Elevators – they sell and install stair lifts.
Address: 12803 82nd Avenue Northeast, Kirkland, WA; contact number (425) 821-3160; email: info@primariuselevator.com.

• A Able Disability Lifts & Home Handicap Improvements – they provide and service innovative lifting devices including stair lifts.
Address: 9210 Market Place Suite #A-202, Everett, WA; Contact numbers (425) 750-3561 and toll free hotline 1-888-711-3116

• Mobility Concepts Inc. – provides stair lift service and maintenance.
Address: 1944 Milwaukee Way, Tacoma, WA; contact number: (253) 896-0971

Call these Seattle stair lifts suppliers today for free home assessment and have the needed stair lift installed in your home within a couple of days.


↑ Top