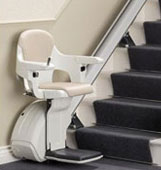 Chicago Stair Lifts
If you happen to be in search of Chicago stair lifts devices and suppliers, this article can help you out.

Stair lifts are invaluable tools for individuals having difficulty climbing the stairs. However, they are quite expensive and purchasing your own is a major investment. That is why you shouldn't rush into buying a stair lift without doing some legwork. The right stair lift must meet your specific needs. Also, your chosen Chicago stair lifts supplier must provide servicing and maintenance to ensure that your lift is in optimum working condition.


How to Finance Stair Lifts in Chicago


Stair lift installation is indeed a huge investment and stair lift financing is always a concern. Fortunately, there are several financing options available to help you meet the expense of a stair lift installation in Chicago. Call the City of Chicago Area Agency on Aging at (312) 744-6777 to qualify for grants which you can use to fund a stair lift installation in your home. The Community Development Block Grant in Chicago may offer grants as well that will help pay the cost of setting up a stair lift. You may call CDBG-Chicago at (312) 744-7870. Moreover, the city of Chicago also has local programs that provide financial assistance to people with disabilities such as Home Repairs for Accessible and Independent Living (H-Rail) and Mayor's Office for People with Disabilities (MOPD). In fact, you can even deduct a portion of your stair lift installation cost from your taxes. Your Chicago stair lifts provider can also help you develop a funding option that suits you best. It really takes some amount of diligence in searching for ways to finance stair lift installation.


Stair Lift Providers in Chicago


You can find lots of stair lifts suppliers serving the Chicago area.

• Home Care Plus, Inc: contact number (773) 784-7897, or visit their office at 6337 N Pulaski Rd, Chicago.

• Chicago Stairlift Company: contact number (630) 746-4220, or email them at info@chicagostairlifts.net.

• Extended Home Living Services: contact number (773) 775-6122 / (630) 717-4445

• Integrity Home Elevators and Stairlifts: contact number (773) 578-7500; and

• RampNow: contact number (630) 892-7267 / 1-877-700-RAMP.


How to Arrange for a Stair Lift Service in Chicago?


• Contact reputable Chicago stair lifts suppliers.
Basically, the supplier will assess your specific requirements by conducting an in-house visit by qualified personnel and discussing options that work best in your situation.

• Prepare for the in-house visit.
Ensure that you know the aspects that are important to you such as features for giving a safe transport up and down the stairs. If possible, arrange for an occupational therapist or a trusted family member to be present during the visit. Remember that you are not obliged to sign up for a stair lift service during the visit.

• Book your stair lift service.
Booking your stair lift service involves initial payment. After which, your chosen stair lift supplier will schedule the stair lift installation date.

A good Chicago stair lifts supplier must provide maintenance and repairs to ensure that your lift is in optimum working condition. The Chicago stair lift company should be easily contacted should the need arise.


↑ Top