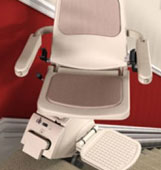 Tucson Stair Lifts
If you want more freedom accessing the stairway of your multi-level Tucson home, a stair lift system makes the finest solution. Tucson stair lifts suppliers will be glad to assist you in this regard.

A stair lift system is a very useful tool for physically challenged individuals to manage the stairways safely. It has also become a popular addition to senior homes in Tucson. Of course, installing a stair lift system into your home is hardly cheap. That is why it is very important that you choose the right stair lift system for your needs as it can be very difficult to decide which type suits you best. In this regard, it is best that you consult with Tucson stair lifts suppliers before buying one.


Stair Lift Companies in Tucson


Getting a stair lift service in Tucson is not difficult as Tucson stair lifts providers can be found all over Tucson and nearby cities.

• White Hat Elevator & Lift Company – they sell, install and service residential stair lifts; located at 5701 E Glenn St # 78, Tucson, AZ. You may call them at (520) 628-1309 or send them an email to WhiteHatElevator@aol.com.

• The Ability Center – premier provider and installer of stair lifts in Tucson area with office at 4720 North La Cholla Boulevard, Tucson, AZ. You can contact them at (520) 293-3596 or through their toll free number 1-866-405-6806 or email them at Cblake@abilitycenter.com.

• Ameriglide Phoenix – reputable manufacturer and installer of stair lift systems with office at 4838 E Baseline Road #102 Mesa, AZ. Call their toll free hotline 1-855-265-5694 for your stair lift needs.

• Integrity Home Elevators & Stairlifts – provides stair lift service and maintenance with office in Tucson, AZ. You may call them over (520) 437-9748.


How to Pick the Right Stair Lift Device in Tucson


Your Tucson stair lifts provider can further assist you in choosing the right stair lift for your needs. Regardless of the type of staircase you have at home, you should know that it can be installed with the right stair lift system whether it as a straight, curved or L-shaped staircase. Also, you must determine the width of the staircase, whether you have narrow or wide staircase, to decide if a platform or a standing lift is more appropriate. Furthermore, the power condition in your area also affects the choice of stair lift as these devices are available in DC (battery-operated) and AC (electricity-powered) units.


How to Finance a Stair Lift Service in Tucson


Don't quail if you don't have enough money to finance a stair lift service. First and foremost, Tucson stair lifts providers recognize this problem and are willing to help you out. Also, if you have a private health insurance, check with your insurance provider if the purchase of medical equipment is covered as some policies can cover part of the cost of stair lift. You can also check federal programs for home modifications and state assistance technology programs which help finance the purchase of assistive technology equipments. Call these federal agencies:

• Department of Community Services for CDBG program at (520) 791-4171
• Assistive Technology Program of Tucson at (520) 324-5402
• PIMA Council on Aging at (520) 790-7262 or email them at help@pcoa.org
• Technology Access Center of Tucson (TACT) at (520) 745-5588.


↑ Top