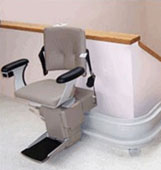 Louisville Stair Lifts
Are you having difficulties managing the stairway? If so, why not install a stair lift? Yes – a stair lift can help you get rid of the difficulties of going up and down the stairs. Why move into a single-storey home when you can actually stay in your multi-level Louisville home and safely manage the stairway with the aid a stair lift? Louisville stair lifts suppliers will surely be happy to help you.


Stair Lift Suppliers in Louisville


Getting a Louisville stair lifts service is pretty simple. In fact, you can find lots of reputable stair lifts suppliers servicing the residents of Louisville who employs professional technicians and accommodating representatives to answer your inquiries. Let us consider some them.

• Gould's Discount Medical – premier supplier of medical and mobility equipments including stair lifts. Located in 3901 Dutchmans Ln # 100, Louisville, KY. Their contact number is (502) 491-2000 while their toll free hotline is 1-800-876-6846.

• Custom Home Elevator & Lift – provides and services residential stair lifts in Louisville, KY. You can contact them by phone at (502) 357-1094 or send email at info@customhomeelevator.com.

• Movin On Mobility – they sell and repair stair lifts with office at 3301 Fern Valley Road, Louisville, KY. You may contact them over (502) 964-3556 or through their toll free number 1-866-964-7556.

• Transitions Mobility and Elevators – they specialize in sales, installation and custom-made stair lifts. They are at 9016 Taylorsville Road Suite 175, Louisville, KY. You may call them at (502) 426-7199.


Financing a Stair Lift Service in Louisville


Due to insufficient funds, some believe that stair lift service is not for them. If this is your case, you should know that help is available. Yes, it is possible for you get a stair lift device even with limited resources. Here are some options you can try.

• Check your private insurance provider – although stair lift installation is not covered by Medicare, your personal insurance provider may cover some of the expenses. Therefore, check with your insurance agent about reimbursement or funding for stair lift service.

• Ask your Louisville stair lifts provider about financing plans – most suppliers have financing options to suit every need. Also, inquire about reconditioned or used lifts which are normally offered at more affordable prices.

• Search for federal programs for home upgrades – you may contact the Department of Housing and Family Services in Louisville at (502) 574-3107 to qualify for Community Development Block Grant which helps finance home modifications. You might also like to contact the KIPDA Area Agencies on Aging and Independent Living over (502) 266-6084 for grants or loans to help you finance stair lift installation.

• Look for state assistance programs for the disabled – these programs offer financial assistance to help people with disabilities and their families acquire assistive technology devices. In Louisville, you may contact Enabling Technologies of Kentuckiana (enTECH) over (502) 585-9911; and Kentucky Assistive Technology Loan Corporation (KATLC) over their toll free hotline 1-877-675-0195.

So what are you waiting for? Get in touch with the nearest Louisville stair lifts supplier and let them help you gain more freedom in around your multi-level home with the appropriate stair lift.


↑ Top