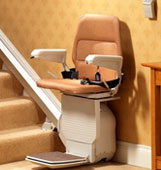 Kansas City Stair Lifts
Stair lifts can make your multi-level Kansas home easier to navigate around especially for those with limited mobility. If you're looking for a stair lift in Kansas City, Missouri, Kansas City stair lifts suppliers carry a wide range of stair lifts to suit your needs.

When shopping for stair lifts in Kansas City, you would want to be well informed so as to get the finest stair lift system for your home. You would want to know which works best for your situation. Kansas City stair lifts dealers have the answers to all your stair lift needs. Do you know where to find them? Read further.


Stair Lift Companies in Kansas City


A variety of dependable Kansas City stair lifts suppliers provide stair lift service and maintenance to the residents of Kansas City. Here are some them.

• Health & Comfort Equipment Service – they offer a full range of mobility equipment and supplies and service Kansas City and other areas including Topeka, Lawrence, Columbia, Saint Joseph and Joplin. They install and repair their products which include stair lifts, overhead rail lift, lift chairs and scooters. You may visit their office at 1250 Howell Street, N Kansas City, MO. You can reach them over (816) 472-1100 or through their toll free hotline 1-800-272-1123. You can also email them at info@healthcomfort.com.

• Access Elevator & Lifts – this premier elevator and mobility lift specialist holds office in Kansas City, MO with contact number (816) 822-2192 and toll free hotline 1-800-397-4000. They also install and service wheelchair ramps, mobile lifts, dumbwaiters, vertical platform lifts and other accessibility products. They even offer refurbished and used accessibility units which are in top form as they are serviced by their professional technicians.

• Mid America Elevator Inc –they are located in 9414 South Stillhouse Road, Oak Grove, MO, and servicing the metro area of Kansas City. They specialize in service and maintenance of residential mobility products including stair lifts, dumbwaiters and elevators. Give them a call at (816) 625-0022 or email Jperlinger@kc.rr.com.

• Handicap Conversions Inc – they provide comprehensive vehicle modifications to adapt to the needs of physically challenged individuals. They also service and repair mobility products including stair lifts. Visit them at their office in 8200 N W 97th TERR, Kansas City, MO; or give them a call at (816) 471-0305 or through their toll free hotline 1-800-809-5438.

• Summit Lifts, Inc – they service and install stair lifts and other mobility equipments with office at 1805 E. 163rd Street, Lake Winnebago, MO. Discuss your stair lift needs to them by calling them at (816) 537-0611 or at their toll free number 1-866-378-6648, or send them an email at info@summitlifts.com.


Financing a Stair Lift Service in Kansas City


If you shy away from getting a stair lift service in Kansas City due to limited funds, you must know that Kansas City stair lifts companies can help you afford stair lift service by offering different payment plans. You can also check the Department of Housing and Community Development at (816) 513-3200 to qualify for CDBG grant and Mid-America Regional Council Aging Services Department at (816) 474-424 which offers loan programs for home upgrades. Lastly, call the Missouri Assistive Technology at (816) 655-6700 or email them at MoAT1501@att.net as they offer financial assistance for the acquisition of assistive technology equipments.


↑ Top