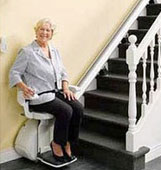 Dallas Stair Lifts
Is the stairway your number one enemy? If so, investing in a stair lift for your Dallas home is the finest solution. And Dallas stair lifts suppliers will help you find the stair lift that suits you best.

How much does a stair lift installation cost? This question usually comes into mind when considering having a stair lift installed in your home. Stair lift costs depend on several factors such as the type of your staircase at home, features of the stair lift unit and how it is powered. For straight stairways, the cost usually runs between $2,000 and $4,000, while for curved type stairwell, the cost is around $8,000 to $15,000. These figures do not include maintenance and repairs done after your warranty expires. This only means that additional coverage adds to the cost notwithstanding the features, brand names and choice between AC and DC powered units.

Are there ways to help you finance Dallas stair lifts service? A resounding yes! Find out what these are.


How to Fund a Stair Lift Service in Dallas?


Help is actually at hand when it comes to stair lift financing in Dallas. Statewide federal programs are enforced to help people with disabilities acquire assistive technology equipments by means of financing loan programs. Besides, Dallas stair lifts suppliers have recognized this problem and have provided payment options that make stair lift service more affordable for you. It only takes doing some groundwork to look for them in Dallas. Here are some of the federal programs you can check out to qualify for loan grants to help you finance your stair lift purchase.

• Dallas Area Agency on Aging – (214) 871-7442
• Community Development Block Grant – Dallas - (214) 670-3681
• Texas Technology Access Programs - (512) 232-0740
• Assistive Technology Resource – Dallas - (806) 788-1616


Where Can I Get Stair Lift Service in Dallas?


Reputable Dallas stair lifts suppliers are scattered throughout the Dallas area.

• Elevating Systems & Services – they offer a wide array of mobility solutions including stair lift services. They are located at 3341 Towerwood Drive #203, Farmers Branch, TX with contact number (972) 243-5805 / toll free 1-888-339-5805; email address: Philip@elevatingsystems.com.

• Para Driving Aids – they offer custom-made units and service stair lifts. The firm is situated at 4250 Felter Lane, Austin, TX. Contact number (512) 385-0808 / email address: paradrive@aol.com.

• Allstar Stairlifts of Texas – they service Acorn stair lifts. You may visit them at 15812 Belfin Drive, Austin, TX with contact number (512) 244-6313 /   (512) 636-5806 / email address: info@texasstairlift.com.

• Nationwide Lifts – they also provide stair lift service and maintenance, with address at 1314 W. McDermott #106 Allen, TX. Contact number (972) 424-3070 / toll free 1-888-323-8755 / email address: rd.baxter@nwlifts.com

• Lift Aids, Inc –the company installs and services different accessibility equipments including used stair lifts. See them at 1500 Westpark Way, Euless, TX. Contact number (817) 835-0035 / 1-800-351-5438 / email address: info@lift-aids.com.

Now that you are aware of some stair lift funding options and know several of the more reputable Dallas stair lifts suppliers, give them a call and they will conduct home evaluation to ascertain your specific needs to ensure that you get the most out of your stair lift investment.

↑ Top