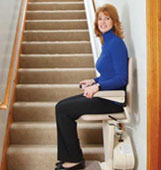 Los Angeles Stair Lifts
Do you find it really difficult to go up and down the stairs? If so, then a stair lift could help you out. If you live in LA, you will find lots of Los Angeles stair lifts suppliers to cater to your specific needs.


Funding for Los Angeles stair lifts


So you've decided to have stair lift at home, but the problem is you don't have enough money to finance its cost. Are there ways to acquire one even with a limited budget? Definitely, help is available as there are several funding options you can choose from to be able to afford a stair lift.

• You may contact the Area Agency on Aging in Los Angeles at (213) 252-4000 for grants and programs you can apply for to help you finance your stair lift installation.

• Check Los Angeles programs on home upgrades as well. Call the Community Development Commission of the County of Los Angeles at (323) 890-7220 for further details about Community Development Block Grant which helps in the maintenance and home upgrades.

• You may also get in touch with Disability Right California, a non-profit organization that provides advocacy services to people with disabilities including assistance technology programs. You may call their Los Angles office at (213) 427-8747 with toll free number (800) 781-5456.

• Lastly, your chosen Los Angeles stair lifts provider can help you develop a financing option that works well with your budget.


How to Choose the Right Stair Lift in Los Angeles


Ponder over these things in choosing the right Los Angeles stair lifts.

• Evaluate the type and size of staircase you have at home.
Choose the stair lift that will fit your staircase at home. A curved staircase requires a curved stair lift, while an L-shaped staircase needs a similarly shaped stair lift, and a straight staircase should have a corresponding straight stair lift. You should consider the size of your staircase as well. If you have a narrow stairway it would be better if you use a standing stair lift because it takes lesser space and does not obstruct the passageway.

• Decide whether you would go for an electric or a battery-powered stair lift.
AC stair lifts or electric powered lifts offer longer usage at relatively cheaper prices while DC lifts or battery powered lifts are more costly investments but advantageous especially when power interruption occurs.

• Assess the physical features of the unit.
Choose the lift that caters to the individual's specific needs. Also, you may have to take into account other important aspects needed for safe lift such as the height, weight and seat size.


Choosing the Right Stair Lift Company in Los Angeles


Choose the supplier that has good reputation in providing quality stair lift devices, installation services and customer assistance. Besides, the right Los Angeles stair lifts supplier must maintain and confer repair services should the need arise as abrasion and deterioration will happen over time and the unit requires at least annual routine maintenance and safety inspection by qualified technicians to ensure that it is in top form and remains safe for use.


Some Stair Lift Companies in Los Angeles


• SoCal Stair Lift - 2658 Griffith Park Blvd. LA, toll free number (888) 845-4387
• Mobility Works – Van Nuys, California toll free number (877) 275-4930
• ElectroEase – Los Angeles, California toll free number (800) 727-1954
• Gamburd Inc. – Pacoima, California toll free number (888) 902-2237


↑ Top