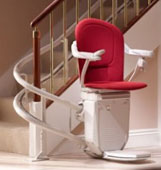 Raleigh Stair Lifts
Is accessing the stairs too much of a struggle for you? Suffer no more with a stair lift system installed in your Raleigh home. Raleigh stair lifts providers are willing to help you regain more independence in your home.

A stair lift system is a cost-effective solution to your mobility problems. When shopping for stair lifts, you want to be informed as much as possible so you can find the stair lift unit that works best for your needs and budget. That is why you have Raleigh stair lifts companies to help you out.


Where are the Best Places to Buy Stair Lifts in Raleigh?


Raleigh stair lifts suppliers are found across the metro and neighboring cities. They sell, install and repair the stair lift units they sell. These companies have stair lift models from the big names of stair lift manufacturers. Here are some of them.

• AmeriGlide Raleigh – premier stair lift manufacturer and provider of quality stair lifts in North Carolina. Other mobility products they sell and service include vertical platform lifts, walk in tubs, wheelchair lifts, bath lifts and dumbwaiters. Visit their office at 3901B Commerce Park Drive, Raleigh, NC, or reach them over their local phone number (919) 861-4594, or through their toll free hotline 1-800-791-6524.

• Masterpiece Home Improvements – although they specialize in the supply and installation of energy-efficient window products, they also offer and service Acorn stairlifts. You may discuss your stair lift needs with them by visiting their office at 1135 Kildaire Farm Road, Cary, NC, or call them at (919) 297-3943, or send them email at Info@ncmasterpiece.com.

• Advanced Seating & Mobility – a leading supplier of mobility products such as stair lifts, ramps, lift chairs, scooters, wheelchairs, power chairs as well as hospital beds. They also sell and service used medical and mobility equipments. Their office is located at 8800 Westgate Park Drive, Raleigh, NC, with contact number (919) 782-5110.

• Nationwide Lifts – a well-known provider and installer of mobility devices including stair lifts. They are located in Cary, NC. You may call them at (919) 341-1361 or through their toll free number 1-888-323-8755. You can also disclose your stair lift needs via email to tim.lord@nwlifts.com. Other products they service and install are residential and commercial wheelchair lifts, dumbwaiters and elevators.

• Carolina Mobility & Seating, Inc. – specializes in installation and service of mobility and seating products, with office at 1001 American Way, Apex, NC. You can reach them over (919) 303-0902; toll free number 1-800-488-9170, or email info@CarolinaMobility.com.


How to Fund a Stair Lift Service in Raleigh


If you need financial help for a stair lift installation in Raleigh, you should know that they are available in several ways. Raleigh stair lifts suppliers are aware of the high cost of these lifts, which is why most of them offer different payment plans for you to manage the cost of stair lift installation easily. In addition, you can check with federal agencies that offer grants to help finance home upgrades such as a stair lift purchase. You may call the Department of Community

Development in Raleigh to apply for a CDBG grant at (919) 857-4330; North Carolina Division on Aging in Raleigh at (919) 733-3983; and NC Assistive Technology Program at (919) 850-2782.


↑ Top