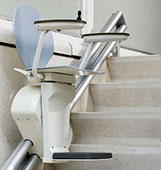 Fresno Stair Lifts
If you're planning to get a stair life service in Fresno, California, Fresno stair lifts suppliers are willing to help you get the right stair lift.

Shopping for a stair lift in Fresno can be intimidating especially if you're working on a limited budget. Furthermore, other things must be considered in order to get the right lift. Aside from providing you with stair lift devices, Fresno stair lifts suppliers can help you find the stair lift that suits your particular needs.


Locating Stair Lift Suppliers in Fresno


Fresno stair lifts providers offer a wide range of stair lifts from reputable manufacturers. They can help you from installation, repair to maintenance of stair lifts. Let us locate some of them.

• Medcare Home Medical Equipment – located at 6735 N 1st St #, Fresno, CA. Medcare offers service and maintenance of residential mobility equipments which include stair lifts. Call them for your stair lift needs at (559) 435-7865 or email them at medcare@callmedcare.com.

• Nor-Cal Mobility Inc – aside from stair lift service and maintenance, Nor-Cal Mobility also supplies and services other mobility products either for residential and commercial environments, like ramps and porch lifts as well as accessible vehicles and minivans. Rental vans are also available. You may visit their office at 120 N. Diamond Street, Fresno, CA, or call them over (559) 268-99394 or through their toll free number 1-800-225-7361. You can also send them email at info@nor-calmobility.com.

• Abbey Home Elevator – premier supplier and installer of elevators and stair lifts with office at 5816 E. Shields Ave., Suite 102, Fresno, CA. You can contact them at (559) 436-6149 or via their toll free hotline 1-800-842-2239; or email them at sales@abbeyaccess.com.

• Better Life Mobility Centers – mobility solution specialists from wheelchairs, personal lifts, stair lifts, wheelchair lifts, to scooters and handicap accessible vans. You can contact them for your stair lift needs at (951) 686-3152 or via their toll free number 1-800-400-4072.


Stair Lift Financing Options in Fresno


As stair lift systems provide great assistance to immobile individuals such as the handicapped and the elderly, they may find it difficult though to finance a stair lift service. If this is your case, know that stair lifts funding are available from different sources.

• Check federal financing programs for home rehabilitation. Call the Department of Housing/Economic and Community Development in Fresno to apply for their loan program for home modifications. CDBG program provides assistance for installation of home medical equipments. You may visit their office at 2600 Fresno St., Room 3076, Fresno, CA or contact them at (559) 621-8507. Moreover, Fresno-Madera Area Agency on Aging also offers similar program or grant. You can visit their office at 3837 N. Clark St., Fresno, CA or call them over (559) 453-4405 or through their toll free number 1-800-510-2020.

• Look for state assistive technology programs. This is another good source to help you afford a stair lift service. Contact the Resources for Independence, Central Valley over (559) 221-2330 or visit their office at 3008 North Fresno St. Fresno, CA. Assistive technology agencies help disabled individuals and their families fund the purchase of assistive technology devices like stair lifts.

Get in touch with the nearest Fresno stair lifts supplier in your area for your stair lift service and maintenance. Surely, they will be glad to serve you.


↑ Top