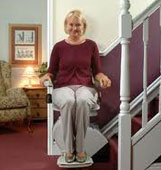 Arlington Stair Lifts
Whether you are suffering from temporary or permanent disability, you will find stair lift a priceless tool. Whether you've already used a stair lift before or not, Arlington stair lifts providers help a lot in finding the right lift for your home.

It is very important that you arm yourself with vital information when shopping for a stair lift device in Arlington. This is because the purchase entails a substantial amount of money and you must ensure that you get the appropriate stair lift device that serves your purpose. You should seek help from any of the numerous Arlington stair lifts suppliers. They have qualified consultants fully knowledgeable about finding the right lift for your home.


Stair Lift Companies in Arlington


Finding Arlington stair lifts dealers is not difficult as there are quite a number of them serving the residents of Arlington area. Most of them are dependable and have proven their trustworthiness in the area of stair lift service.

• Abbot Stair-Climbers Inc – this premier stair lift company is located at 7708 Gingerbread Lane, Fairfax, VA and serves the residents of Arlington and surrounding cities. They sell, install and service stair lifts. Give them a call over (703) 425-8122 or visit their office for your stair lift needs.

• Grace in Motion – competent provider of mobility equipments including stair lifts. They take pride in their personalized service and unrivaled customer service. Other products they provide include scooters and wheelchairs. They also offer used stair lifts and other mobility products, while rental services are also available. Their office is located in 8480 Tyco Road, Suite A Vienna, VA, with contact number (703) 556-8998.

• Granting-You-Access – authorized remodeling contractor, with services that include handicap accessibility and installation of Acorn stairlifts. They serve the Washington DC and Denver, Colorado areas. They have an office in Herndon, VA with telephone number (703) 433-0380. You can also email them at Greg.Sieb@verizon.net.

• Maryland Mobility Lifts LLC – based on Owings, Maryland that services the residents of Virginia, Washington D.C and Delaware. They supply and service stairlifts, ramps and wheelchair lifts. You can reach them by calling their toll free number 1-866-235-9366 or send them email at info@marylandmobility.com.


Financing a Stair Lift Service in Arlington


What if you found out that your resources are not enough to afford a stair lift installation? Don't worry; there are several ways to help you pay for the cost of your Arlington stair lifts.

• Search federal programs for home modifications – there are loan programs intended to help finance home modifications like the installation of medical or mobility equipments. These are available in the CDBG program by the Housing and Urban Development. You can check the Department of Community Planning and Housing in Arlington to qualify for CDBG at (703) 228-3822. Moreover, similar grants for home modifications are also available in Area Agency on Aging. Contact the Arlington AAA at (703) 228-1700 for further details.

• Look for assistance technology programs – these are statewide programs designed to help people with disabilities in purchasing assistive technology equipment. Contact the Virginia Assistive Technology Systems (VATS) at (804) 662-9990 on how to qualify.

Aside from the abovementioned federal programs, Arlington stair lifts suppliers also have financing options to help you manage the cost of stair lift service. Also, some health insurance policies cover part of the cost of stair lift service as well.


↑ Top