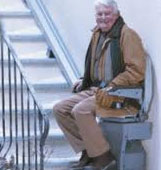 Minneapolis Stair Lifts
Having trouble managing the stairs but at the same wanting to stay in your beloved multi-level home in Minneapolis? If so, then you should consider installing a stair lift system into your home. Several Minneapolis stair lifts provider can help you.


Minneapolis Stair Lifts Suppliers


Several companies provide stair lifts in Minneapolis. They help a lot in the supply, installation as well as maintenance of your stair lift. Consider some of them.

• Arrow Lift Accessibility – this particular Minneapolis stair lifts supplier is the premier choice among the stair lift companies in Wisconsin and Minnesota with its wide selection of stair lift models from giant names in stair lift manufacturing. They also have service plans for the routine maintenance and repair coverage of your stair lift. Visit them at 1550 91st Avenue NE # 202, Minneapolis, MN, or call them at their toll free hotline 1-888-815-4387 or (763) 786-2780. You can also email them at info@arrow-lift.com.

• Twin City Stair Lifts – they service and repair stair lifts and other mobility products like ramps, ceiling lifts, wheelchair platform lifts and home elevators. They are located at 1528 Cliff Road, Burnsville, MN, with contact number (952) 808-3646 and email address info@twincitystairlifts.com.

• Access Lifts, Inc – this Minneapolis stair lifts supplier specializes in accessibility products and supplies and installs stair lifts, elevators, wheelchair lifts, dumbwaiters, material lifts and automatic door openers. Their office is located at 1195 Town Centre Drive, Eagan, MN. You can call them either through their toll free number 1-800-557-9228 or through their local phone number (651) 688-9222.

• All City Elevator Inc – they sell, install, service and repair residential stair lifts and other mobility products like wheelchair lifts, material lifts, dumbwaiters and elevators. Their office address is 2340 Capp Road, Saint Paul, MN, with telephone number (651) 646-5600 and email address info@allcityelevator.com.

• Freedom Cars Mobility Store – they provide a full line of mobility solutions for your mobility needs. They have new and used stair lifts and even offer stair lift rentals. Other products they offer include walkers, scooters, wheelchairs, power chairs, canes, vehicle lifts, power chair lifts, ramps and wheelchair lifts. They are located at 4711 Clark Avenue, White Bear Lake, MN, with telephone number (651) 429-6323.


Funding a Stair Lift Purchase in Minneapolis


If financial assistance is needed for the installation of your stair lift, then help is at hand. Here are some sources of financial assistance for the purchase of Minneapolis stair lifts you should take note of.

• Community Development Block Grant – this program is funded by the federal government which provides financial assistance for home rehabilitations like installing stair lifts. Call the Department of Community Planning & Economic Development in Minneapolis at (612) 673-2001 on how to qualify for CDBG.

• Metropolitan Area Agency on Aging – the agency ensures that seniors are well taken care of and have loan programs to help fund home modifications in which stair lift installation is covered. You can call them at (651) 641-8612.

• Minnesota STAR Program – they provide financial support for the purchase of assistive devices. Contact them at (651) 201-2640 for further details.


↑ Top