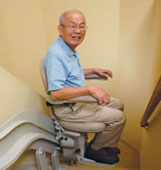 Washington Stair Lifts
Do you want to gain more independence inside your Washington home? Then, maybe it's time that you consider installing a stair lift and stay in your beloved home rather than move to a single-storey house. Washington stair lifts suppliers can be found across the Washington State to address all of your stair lift needs.


Stair Lift Companies in Washington


Washington stair lifts providers offer a wide range of stair lift services such as installation, repair and maintenance. Check some of the reputable stair lifts companies serving the residents of Washington.

• Adaptive Installations – a reputable provider of mobility and accessibility equipments to help physically challenged people gain more independence. They provide stair lift service and maintenance. Visit their office at 10010 14th Avenue Southwest, Seattle, WA. You may reach them through phone at (206) 762-1969/ toll free number 1-800-765-1969 or through email at info@adaptiveinstallations.com.

• Lifespan Home Modifications – this Washington stair lifts supplier is a full-service contractor that will design and construct home improvements, both minor and major, including entire accessibility modifications such as stair lift installation. They are located at 3209 Harrison Avenue, NW # 161, Olympia, WA. Call them over (360) 584-3833 or send them email at Chris@lifespanathome.com.

• Primarius Elevators – they supply, install and service stair lifts as well as wheelchair lifts and elevators in the Washington area. Their office address is 12803 82nd Avenue Northeast, Kirkland, WA, with contact number (425) 821-3160.

• American Elevator Corporation – premier supplier and installer of stair lifts serving the residents of Alaska and Washington State. They carry other products including elevators, vertical platform lifts, car lifts, material lifts, inclined platform lifts and elevators. You may visit their office located at 2110 116th Avenue NE, Suite 5, Bellevue, WA. Contact them at (425) 455-8584 or through their toll free hotline 1-888-610-2400.

• Nationwide Lifts – they supply, install and service stair lifts, wheelchair lifts, dumbwaiters and residential elevators located in Gig Harbor, WA. Give them a call for your stair lift needs at (253) 514-9722 or through 1-888-323-8755 or email them duane.bishop@nwlifts.com.


Stair Lift Financing Options in Washington


Assistive technology equipments like stair lifts are expensive. And it's quite challenging to get the needed service in a tight budget. It is welcome news therefore that there are various sources of funding assistance available to help you out. Check out the following ways to help you pay for the cost of your Washington stair lifts.

• Discuss payment plans with your stair lifts supplier. Stair lift companies are aware of the fact that majority cannot afford the cost of a stair lift service. These dealers may have financing options to help you manage the cost of stair lift service easily. Some also sell used or refurbished stair lifts which are less pricey. Furthermore, stair lift rentals are another option especially if you're going to need the lift for a short time only.

• Seek assistance technology programs. Statewide assistive technology programs are enforced to help physically challenged individuals as well as their families obtain assistive technology devices like stair lifts. Call the Washington Assistive Technology Act Program to apply for their device loan program at their toll free hotline 1-800-214-8731.

• Search federal programs for home upgrades. You may call the Contracts Administration Unit in Washington at (360) 725-3017 to apply for CDBG contract which helps finance home upgrades. You can also check the Washington Association of Area Agencies on Aging at (360) 485-9761 for loan grants on home modifications.


↑ Top