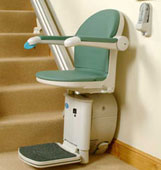 Baltimore Stair Lifts
Can't navigate the stairs safely? If so, why not utilize stair lifts? Stair lifts have become functional features in some Baltimore homes for people with limited mobility such as the handicapped and elderly. There are a number of Baltimore stair lifts suppliers and all will be glad to serve you.

As a start, let us consider the cost of stair lift installation in Baltimore.


Stair Lifts Costs in Baltimore


The price of a stair lift unit greatly depends on the type of your staircase at home. Stair lifts for straight stairwells are much cheaper compared to the stylish curved lifts for curved stairwells. Straight lifts cost over $4,000 while curved stair lifts can cost up to $15,000. It really is a huge investment especially if you have curved staircases. Moreover, it will cost even more for other services like repairs and maintenance. If your resources are not sufficient to pay for a stair lift unit and service, don't despair because help is available.


Funding for Stair Lift Service in Baltimore


Baltimore stair lifts suppliers have recognized the problem associated with stair lift funding especially for those who have limited budget. That is why they have payment plans to choose from to help people like you afford their stair lift service. In addition, you can look for federal agencies with programs that provide financial assistance to purchase assistive technology equipments like stair lifts. These agencies include:

• Maryland Department of Disabilities which has a program called Maryland's Technology Assistance program (MD TAP). MD TAP gives assistance for the acquisition of assistive technology devices. You may get in touch with them at (410) 767-3660.

• Department of Aging in Baltimore County – call them at (410) 887-2594 or you may email them at aginginfo@baltimorecountymd.gov

• Director of CDBG contracts in Baltimore – contact number (410) 396-4207; they provide financial assistance for home upgrades and modifications.


Arranging a Stair Lift Service in Baltimore


Arranging your Baltimore stair lifts service is quite easy. Call a reputable stair lifts supplier servicing in Baltimore for a stair lift quote. Home evaluation will follow subsequent to your initial call. In-home assessment is usually free and it is best to get at least three quotes. Once you've figured out the most favorable quote, book your stair lift service by calling or visiting your chosen Baltimore stair lifts supplier's office and pay the initial down payment if necessary. After which, they will install the stair lift within a few days.


Stair Lift Providers in Baltimore


• Innovative Lifts, Inc – a stair lift specialist with office at 8338 Veterans Highway #101, Millersville, MD. You may contact them at (410) 978-4050 or send email at Sales@innovativelifts.com.

• Home Elevator Company – sells and installs stair lifts; located at 218 Old Padonia Road, Baltimore, MD, with contact number (410) 689-2393.

• Advantage Medical Services - stair lifts sales and repair specialists with office at 3974 North Point Road, Baltimore, MD. You can reach them over (410) 477-9044 or email them at info@advantagemedicalservices.net.

• Bedco Mobility – premier stair lift suppler and installer located at 6300 Falls Road, Suite 2, Baltimore, MD. You can call them over (443) 798-3570 / toll free hotline at 1-888-816-8147.

• Preferred Elevator Company Inc – offers stair lift service and repair situated at 4 Nashua Court Suite 8, Baltimore, MD; with phone number (410) 238-2555 and email address ken@preferred-elevator.com.

• Premier Lifts Inc – specializes in stair lifts installation and service; located at 7 West Avlesbury Rd #1, Timonium, MD; with phone numbers (410) 561-7006 / toll free hotline 1-800-688-6116.

• Towson Medical Equipment Company – services and repairs stair lifts. They are situated at 1844 E Joppa Rd., Baltimore, MD with contact number (410) 882-4005.


↑ Top