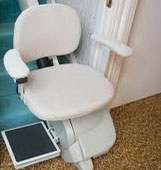 Milwaukee Stair Lifts
If you or a loved one is physically challenged, the stairs could be a very dangerous place for you. But installing a stair lift into your multi-level Milwaukee home enables you to manage the stairs safely. Fortunately, there are plenty of Milwaukee stair lifts suppliers willing to help you.

Certainly there are several things concerning you right now with regards to stair lift installation. Let's discuss some of these.


Cost of Stair Lifts in Milwaukee


The cost of stair lift installation into your Milwaukee home depends on factors such as type and size of your stairwell at home, the unit's features, and how it is powered. For straight lifts, you may have to pay by up to $4,000, and as high as $15,000 for curved lifts. You also have to choose between DC or AC units. You may find DC units or battery-powered lifts the better option if power outages frequently occur in your place. These prices only cover the installation and usually with a one-year warranty. However, you may choose to add more coverage for repairs and maintenance even after the warranty expires. Your chosen Milwaukee stair lifts supplier would definitely be grateful to help you find the stair lift that suits your needs and budget.


Choosing the Right Stair Lift Company in Milwaukee


Contact reputable Milwaukee stair lifts provider servicing in Milwaukee area. A good stair lift company will help you determine the right stair lift that suits your specific needs. Besides, they have prompt support service should the need arise. Above all, go for suppliers that install and repair the stair lifts they sell. They should take on the responsibility of installing the stair lift into your home instead of leaving you to do it by yourself. This is a strong indication that your safety is their primary concern.


Where to Buy Stair Lifts in Milwaukee


• Apsco-On the Go Mobility - they provide stair lift service and repair.
7289 North Teutonia Avenue, Milwaukee, WI
(414) 228-7770; toll free hotline 1-800-601-7267
Email address: SCOOTERS@APSCOONTHEGO.COM.

• Bridgeway Independent Living Designs (BILD) - premier stair lift service and maintenance provider located in Milwaukee, WI.
(262) 671-2032, toll free number 1-888-482-2453
Email address: info@bildnow.com.

• Accessibility Home & Medical Rehab – services and repairs stair lifts
4404 W Oklahoma Avenue, Milwaukee, WI.
(414) 543-1114.

• Miller Mobility Products Inc. – they sell and service different mobility products which include stair lifts.
713 N. Grandview Blvd., Waukesha, WI
(262) 549-4900; toll free hotline 1-877-549-4900
Email address: info@millermobilityproducts.com.

• Nationwide Lifts – premier supplier and installer of stair lifts
N11W31297 Fairfield Way, Delafield, WI.
(262) 646-2775, toll free hotline 1-888-323-8722
Email address: carrick.troutman@nwlifts.com.


Funding a Stair Lift Service in Milwaukee


If you have limited funds, don't despair as help is widely available. First, discuss financing options with your preferred Milwaukee stair lifts supplier. Second, you may withhold part of your stair lift installation cost into your tax. Third, check federal programs to qualify for loans to help you fund a stair lift service. You may contact the CDBG Administration in Milwaukee over (414) 289-3844; Resource Center of Milwaukee County Department on Aging at (414) 289-6871; Wisconsin Office for Persons with Physical Disabilities (OPPD) at (414) 291-7520; and Wisconsin Assistive Technology Program (WisTech) at (608) 266-8905.


↑ Top