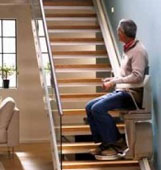 Denver Stair Lifts
If you're having a hard time getting upstairs, then you should consider installing a stair lift into your Denver home. Stay in your Denver home and Denver stair lifts providers will help you regain your freedom around your house.

Stair lifts have become a welcome addition to Denver homes with aging parents or disabled family member. It effectively eliminates the danger posted by the stairs to these people. There are several things you must mull over when shopping for stair lift service. Considering them beforehand will help you pick the right stair lift service for your mobility needs.


Before Calling a Stair Lift Provider in Denver


Determine the type of staircase you have at home. Also, assess the staircase size so as to determine whether a standing lift is the most appropriate. The physical abilities of the user must be considered as well in order to pick the features that the user needs most. Knowing the power situation in your area also helps determine if DC or AC lifts work best for you. Denver stair lifts providers can be great source of help to figure out the stair lift that best suits your customized needs.


Choosing the Right Stair Lift Provider in Denver


You can find plenty of reliable Denver stair lifts providers that carry durable stair lifts from reputable stair lift manufacturers. In addition, they have competent service representatives to answer your concerns and professional technicians to install your stair lift. A good stair lift company never recommends you to install the stair lift by yourself just to save money. Safety is very essential in stair lift installation and only qualified technicians should set the device up.


Stair Lifts Suppliers in Denver


• Stair Lift Rentals, Inc – premier supplier of stair lift service and rentals. The company is at 1624 Market Street, Suite 202, Denver, CO. You can reach them at (303) 765-5438 and (720) 515-5438.

• Ascent Elevator – mobility equipment specialist that sells new, reconditioned and used devices as well as custom-made stair lifts for your specific needs. Their office is located at 5701 25th Avenue, Denver, CO, with contact number (720) 335-5811 and email address info@ascentelevators.com.

• Morning Star Elevator – they provide and service stair lifts with address at 800 E 64th, Denver, CO. You may contact them at (303) 623-7433 or send email to Richard@mselevator.com.

• Accessible Systems Inc. - provides stair lift service and repair. Visit them at 5596 South Sycamore Street, Littleton, CO. Phone number (303) 693-7787; toll free hotline 1-877-693-7787 or send them email at info@accessiblemed.com.

• Ascension Lift & Elevator Company – they service and repair stair lifts with office at Denver, CO. Contact them at (720) 375-4068; (719) 264-9945 or email them over contactus@ascensionlift.com.


Funding a Stair Lift Service in Denver


You can raise funds for Denver stair lifts service by applying for loan grants or financial assistance offered by several federal programs.

• Business and Housing Services in Denver for CDBG at (720) 913-1570

• Assistive Technology Program of Colorado at (303) 315-1280; or email at Lorrie.harkness@ucdenver.edu

• Denver Regional Council of Governments at (303) 455-1000.

Booking your for a stair lift service in Denver is very simple. Call any of the reputable Denver stair lifts suppliers mentioned above for free home assessment to ensure that only the right stair lift is installed into your home.


↑ Top