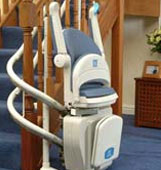 Boston Stair Lifts
If you are not able to move around your Boston home because you're physically challenged, a stair lift will give you some measure of freedom traversing back and forth the stairways safely. It may just require finding the right Boston stair lifts supplier to figure out what suits you best.

Old age and physical disability may make managing the stairs difficult and dangerous. But with a stair lift, you only have to sit on the sturdy chair and you will be glided through the staircase. But you should know that stair lifts are not budget-friendly as they entail a huge investment. That is why you need to do some homework to make most of your stair lift investment and Boston stair lifts providers are willing to help you out.


Guide to Buying Stair Lifts in Boston


Quality and price often come together when buying stair lifts. Despite the popularity of online shopping, it is best to go for the traditional offline shopping when purchasing stair lifts. The right stair lift should correspond to the type of staircase you have at home. It is also imperative that you conduct a fair assessment of the physical capabilities of the stair lift user to determine the features that will work best for his or her situation. And lastly, the power condition in your area will help you determine whether an AC or a DC unit is more appropriate.

Aside from making advance assessments on your own, Boston stair lifts suppliers can further help you pick the right stair lift when you call them for service or evaluation of your home and your needs.


Where to Find Stair Lift Suppliers in Boston


There are numerous stair lift companies servicing the Boston area. Notice that most of them are located in nearby cities.

• Natale Company & Safety Care – they supply, install and service durable medical and mobility devices including stair lifts. Their office is located at West Dexter Avenue, Woburn, MA. You can contact them over (781) 933-7205 or send email at safetycare@safety-care.com.

• LivingFreeHome Stairlifts – premier supplier of as well as service mobility equipments which include stair lifts, with office located at 401 VFW Drive, Rockland, MA with phone numbers (781) 261-9901 and their toll free hotline 1-888-545-4846.

• Nationwide Lifts of Massachusetts – mobility equipment specialist with office at Wilmington, MA. You can contact them over (978) 228-0861 or via their toll free hotline at 1-888-323-8755 or email them at Bob.steen@nwlifts.com / Terry.steen@nwlifts.com.

• Beverly Medical Supplies – provides and services stair lifts. Check them at 5 Elm St., Peabody, MA. You may contact them at (978) 922-1022 or email at sjalbert1@verizon.net.

• BBE Elevator – provides, installs, repairs and maintains stair lifts. This firm is situated at 27 Congress St., Salem, MA with contact number (978) 594-1197. You can email them at info@bbeelevator.com.


Financing a Stair Lift Service in Boston


If you can't afford a stair lift service, there are Boston stair lifts suppliers that offer different payment plans to help you pay for stair lift services. In addition, you can deduct part of the stair lift installation cost from your tax. Aside from these, you can check Easter Seals Massachusetts at (617) 226-2640 or email them at MassATLoan@eastersealsma.org to apply for Massachusetts Assistive Technology Loan program to aid you in your stair lift purchase. You may also contact the Elderly Affairs of Boston Area Agency on Aging over (617) 635-4366, as well as the Department of Neighborhood Development in Boston for CDBG grant at (617) 635-0242.


↑ Top