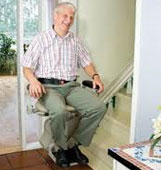 New York Stair Lifts
For some homes, stair lifts have become a familiar apparatus. A stair lift is basically a motorized chair used to help people move up and down the stairs. New York City's elderly population is increasingly growing and many of them are in need of home care services. But these lifts are not just for the elderly as they are essential for the handicapped as well. New York stair lifts are available anywhere in the city and you don't need to worry as setting one up doesn't need any major structural changes in your home.


Financing New York Stair Lifts


New York stair lifts can be a bit expensive, ranging from $1000 - $5000 depending on the manufacturer, type and additional features. These stair lifts, whether straight or curved, are made-to-order equipments. Good thing that most suppliers offer free stairway assessment and accommodate installment basis for payments.

There are number of ways of purchasing stair lifts in New York. For those who have enough finances, they are capable of purchasing brand new stair lifts. But those who have limited means have other options. They could either buy a reconditioned or second-hand stair lift or rent one.

However, for some, purchasing even a used stair lift can be quite expensive. Lucky are those who have insurance that cover such type of personal mobility assistance. For those who don't, New York City has loan funding programs available for the handicapped or disabled persons, such as the Equipment Loan Fund for the Disabled Pub. 1407.


Where to Buy New York Stair Lifts


Most recognized stair lift manufacturers in New York include Acorn, Bruno, Stannah, and AmeriGlide. Here is a list of stair lift suppliers across New York City:

• DAY Elevator & Lift
50 Hempstead Gardens Drive West Hempstead, NY 11552
Toll No.: 1-800-758-5438
Services: They provide brand new and pre-owned stair lifts from top manufactures like Bruno, ThyssenKrupp Access, and Savaria. The company also buys used stair lifts.

• Divine Design USA
542 Herzel Blvd West Babylon, NY 11704
Phone: (631) 278-1940
Services: Distributors of rack and pinion and battery-operated type of stairlifts. They provide new and used stairlifts to New Yorkers and provide all kinds of brands and models but most especially Acorn Stairlifts.

• Mobility Elevator & Lift Co.
(Main office) 4 York Avenue West Caldwell, NJ USA 07006
Phone: (800) 441-4181
Toll No.: 1-800-441-4181
Services: The company provides sales, rentals and installation of stair lift equipments in New Jersey and New York. It is an authorized distributor of Acorn, Savaria, ThyssenKrupp Access, Sterling, Bruno, and Bison Bede.

• Stannah Stairlifts Inc.
45 Knollwood Rd., Suite 103 Elmsford, NY 10523
Phone: (914) 345-8484
Toll No.: 1-800-334-9571
Services: Supplies and installs Stannah stair lift products and services. They offer 100% money-back guarantee to all customers within 7 days from day of purchase.

When shopping for stair lift equipment, always consider buying from a reliable supplier. Decide which type of lift best suits your situation, if it is for short or for long term use. If it's for short time only, like less than a year for instance, then it would be more practical to just rent one. Many New York stair lifts suppliers offer free assessment and installation, so make use of this and call the nearest supplier in your area.


↑ Top